​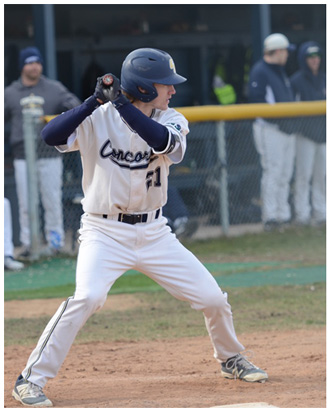 Connor Olson is a 2014 graduate of West Lutheran High School. Connor was an active and involved student at West who was able to grow both spiritually and academically during his four years of study at the school. Many of us had the opportunity to watch him play baseball for the Warriors. During his career here he received eight letters, four in baseball and four in football for the Warriors. Connor was named team captain in his junior and senior seasons in baseball and his senior year in football. He also earned All-Conference and All-Section 4A honors as a senior in baseball. Connor led the Warriors to three consecutive conference titles and a combined record of 54-13 from his freshman through his junior years. In 2014 he received Perfect Game All Central Region Honorable Mention. Connor also played for former Minnesota Twin Al Newman with the Minnesota Blizzard in the off-season while receiving the Team Leadership Award for four consecutive years.
During the summer of 2015 he played on the Wayzata American Legion team and won the State Championship for the first time in that team's history. He also played on a men's amateur team—the Minnetonka Millers—both last summer and this summer. The team won the State Championship both years. After graduating from West Lutheran, Connor chose to continue his education at Concordia University in St. Paul where he is majoring in business with a minor in sports management. In his freshman year at Concordia, Connor played in 43 games with 42 starts, earning nine starts behind the plate and 33 at designated hitter. As a Golden Bear in 2016, Connor had the privilege of being a NCBWA Division II All-Central Region honorable mention, a 2016 All-NSIC First Team Catcher and NSIC All Tournament Team Catcher as well as NSIC All-Academic. A very special honor for Connor is that he was voted Concordia College Athlete of the Year for 2015/2016. This is chosen by head coaches and sports administrators and speaks to the athlete's character as well as their athletic ability.
Christian education is important to the Olson family. Each of their three children attended Redeemer Lutheran Grade School in Wayzata and West Lutheran High School. Deb Olson, Connor's mother, has expressed the wonderful thought that both Connor's team at Concordia University as well as the Minnetonka Millers team take a knee and say a prayer after every game, just as his team did at West Lutheran. God has blessed Connor in so many ways in his baseball career, leading him to the right team and the right college for him. We wish Connor much success, spiritual, academic and athletic, during the years ahead.
---
We have had a child or two at West Lutheran every year for the last 15 years. What a blessing it has been for our family. When we sent our oldest in 2000 we had little idea of how we would pay the tuition. Some people helped us (we don't even know who) in that first year and since then God has blessed us where we have not needed the help. The money just seemed to appear.

The fact that my kids got to hear the powerful Word of God everyday is a tremendous comfort to us. We know that faith comes from hearing and our kids heard. We are promised that the Holy Spirit will do his work.

Secondly, they got a great education. I would put a West Lutheran education up against any school in the country. If you want your kids prepared for the next step, this school is second to none.

Thirdly, it gave all of them a chance to be involved in a wide variety extracurricular activities. They were all at least two sport athletes and were pushed into doing things that expanded their comfort zone in other areas. We also have been blessed with a daughter in law from West Lutheran!
David and Ann W.
Parents of a 2004, 2006, 2008,
2012 and 2016 graduates
---
West Lutheran prepared me for success not only in my college path to become a nurse but also in my faith. Before attending West it would have been difficult for me to stand up for what I believed in but through Chapel, Religion Classes, and Devotions I am now able to stand firm in the one true God! I loved the friendliness of the teachers, staff, and students. It was so easy to talk to all of the teachers at West because they are always looking out for their students and want to see them succeed. I am privileged to say I got to spend four amazing years and graduate from West Lutheran. I wouldn't trade any of the time I spent there, memories I have made, or friendships that will last a life time.

Anne E.
Class of 2014
---
The Beise family has a long history with West Lutheran. Doug's parents were a part of the school opening plan and his younger sister, Barb was a graduate of the first four year class. His brother, David also graduated from West Lutheran. Both of them went on to college to excel in their education and athletics, have successful professional careers and raise their families with a Christian Education.

When our children were born we decided it was very important to continue the Christian Education tradition our family had begun. We wanted them to learn to put God first and foremost in their lives. Our children attended Salem Lutheran School in Greenfield and we exposed them to West Lutheran at an early age by attending various activities. Through attending activities at West Lutheran during those years we witnessed other students grow into spiritually strong independent adults and this strengthened our decision that our children would attend West Lutheran.

Both of our children have developed wonderful relationships with other students and grown both spiritually and academically. We are very pleased with our West Lutheran experience!

Doug and Deb B.
Alumni and Current West Family
---
After my 8th grade year at public school, I had a decision to follow my brother and attend West Lutheran or remain in the public school system for my secondary education. I ultimately decided to attend West after I saw the opportunities it allowed me for athletics, academics, and to foster my Christian faith. I thought it would be a great opportunity to receive an education that was higher than the public schools as well as grow in my faith and learn more about the meaning of being a Christian. During my time at West, I found myself challenged academically and spiritually, which I believe was a great springboard to where I am now. After attending West Lutheran, I gained acceptance to the United States Naval Academy in Annapolis, Maryland. In my opinion, I was very well prepared for the Academy because of the strong academics West offers. With an emphasis on high-level writing techniques as well as math and science, West offers a well-rounded education that is a tremendous basis for college courses.

I also attended West Lutheran for the athletics and the small-school atmosphere. While some public schools can offer more classes, West offers a very personal atmosphere between students and teachers. I am still in contact with a number of my teachers from West and find it to be one of its best selling points. Coupled with this, West provides a number of college preparatory classes that fit perfectly on to a college application, and may even earn college credit. Outside of academics, West offers a variety of club and social activities that are essential to an enjoyable high school career.

West Lutheran also has a number of athletic programs as well as intramural leagues for the students to participate in. At West, I was an All-State catcher for the baseball team as well as a football captain my senior year. The memories I have from these teams are some of the best I had at West and I attribute it to the great relationship the players have with the coaches. Personally, I have been both a player and coach for the baseball team and found the team dynamic and communication avenues to be unparalleled to any other school. There is no other school in the state where the coaches work as hard as they do at West to see their players grow, not only as athletes, but also as people. Because of this, West has a number of very successful athletic programs including the number two ranked baseball team in the state, a very successful boys and girls basketball program, and a track and field team that perennially contends. I know athletics is a huge factor when deciding on a high school, and I found West to fit exactly what I wanted. It offers a number of sports, great exposure for college, and an academic background that any college would love to see on an application.

Overall, I am extremely happy and proud to be a West Lutheran graduate. It was a very fun and memorable four years that included a challenging dose of academic coursework, rewarding athletic experiences, and a sense of belonging that other high schools cannot offer. I believe that attending West was one of the best decisions I have ever made and is one that has set me up for success in the future both in and out of the military.

Zach N.
Class of 2009